PixelController is a real time video/VJ generator and mixer software. Most of the Visuals are generated and mixed in realtime and respond to the environment. I use PixelController to control my PixelInvaders Panels.
PixelController supports well-known industry and OpenSource standards, such as Art-Net, Mini-DMX, LPD6803 and Seeedstudio's Rainbowduino. It is quite simple to support more standards protocols like WS2801, HL1606 etc.
If the PixelController software is launched, two windows are displayed. The first window shows the internal debug buffer while the second shows the simulated output matrix.
The internal imagebuffer in this example shows three different visuals. The number of visuals displayed corresponds to the configured output: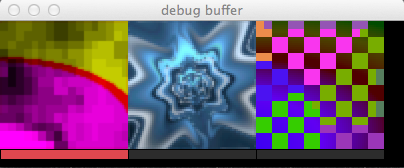 The simulated output matrix window shows the first Visual stretched over two matrices: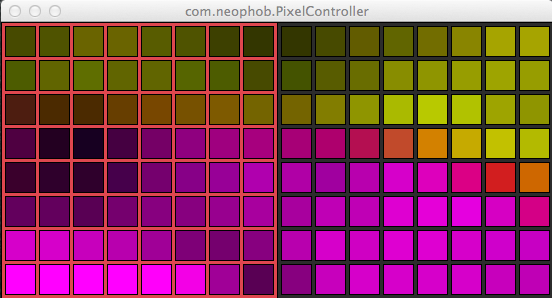 There are different possibilities to control PixelController, one of them is the PureData frontend: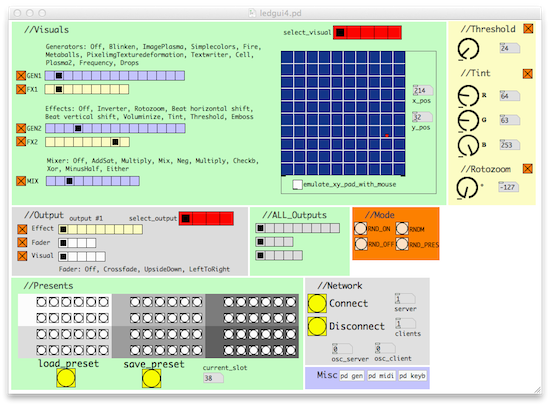 Another possibility to control PixelController, using the simple TCP protocol with NetCat:
1
2
3
4
5


# nc 127.0.0.1 3448
RANDOMIZE;
CHANGE_TINT 31 33 7;
CHANGE_ALL_OUTPUT_EFFECT 3;
CHANGE_ALL_OUTPUT_VISUAL 1;
How to get PixelController?
PixelController is hosted on GitHub, so
Technical Specs
More information about PixelController.
Generators:
Blinkenlights Movie Player
Image Viewer
Simple Plasma
Simple Colors
Fire
Metaballs
Pixelimage
Texture Deformation
Textwriter
Image zoomer
Cell
Plasma Two
FFT
Bubble
Effects:
Inverter
Rotozoomer
Horizontal Beat Shifter
Vertical Beat Shifter
Voluminize
Tine
Threshold
Emboss
Mixer:
Add Saturation
Multiply
Mix
Negative Multiply
Checkbox
Voluminizer
Xor
Minus Half
Either
Fader:
Switch
Crossfade
Slide Upside Down
Slide Left Right
Resizer:
Pixel Resizer
Quality Resizer
How to control the Software:
PureData Frontend
OSC Server/Client
MIDI Device/Signal
Command Line Interface
Simple TCP Interface
Audio input
Operation Mode:
Manual
Automatic aka. Randomizer
Predefined settings
Supported Operating Systems:
Microsoft Windows
Apple OSX
Linux
Every OS that supports a JRE