Like many people I own an IKEA Expedit shelf. I added some LED modules behind the shelf, now the shelf looks superb, but look yourself: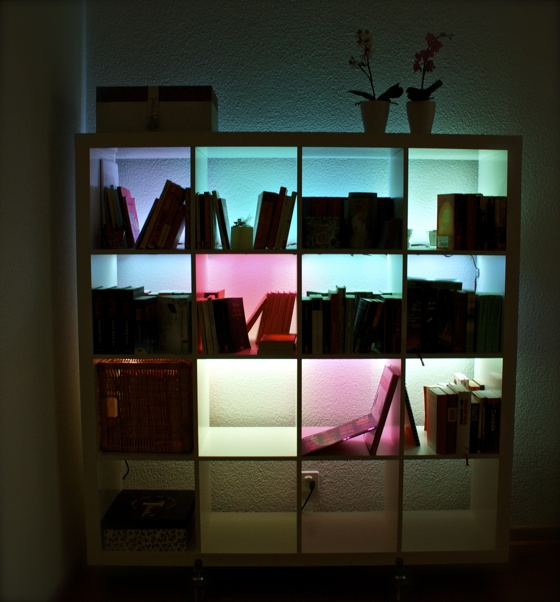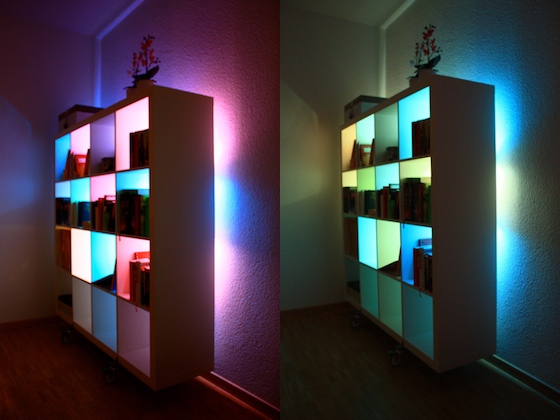 Currently ExpeditInvaders support 10 color sets (RGB, Rasta, CGA, Brazil, Fizz, Kitty, Neon, Lantern, Lemming, LeBron) and 6 animation modes (Random, Solid, Ordered, Checkboard, Weird, Weirdtwo). The best thing about ExpeditInvaders is, that you can use your feets to change the color set or animation mode. Under the shelf is a PS2 keyboard attached. The keyboard has a special key map installed, if a key on the left side is pressed the color set change, if a key on the right side is pressed the animation will change.
If you press ESC + Arrow Right ExpeditInvaders will save the current state to the EEPROM. This state will be restored next time ExpeditInvaders is restarted.
All you need to spice up your Expedit Shelf are two strands of LED modules, an Arduino board (doesn't matter which one, can be an old Duemilanove or a new Leonardo) and an old PS2 Keyboard. If you want to create a ExpeditInvaders yourself, check out the PixelInvaders store.
Step 1, align LED Modules
Align the modules like on this image (back view):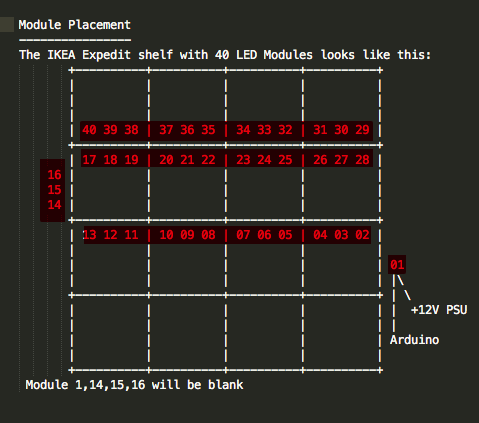 It should look like this, once you installed them: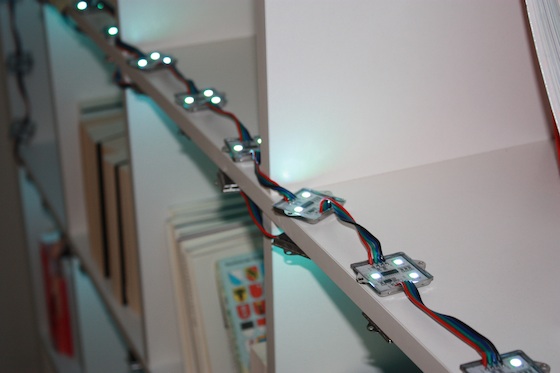 Step 2: Connect Devices to Arduino
Connect Pin 13 to LED Module Clock, Pin 11 to LED Module Data and GND to LED Module GND.
Connect 5v and GND to the PS2 Module, Connect Data to Pin 2 and Clock to Pin 3.
You can use an Arduino without pinheaders (solder direct on the board) or you use a ProtoShield Kit.
Here is the PS2 connection schema (thanks to prjc.com, I ripped your image):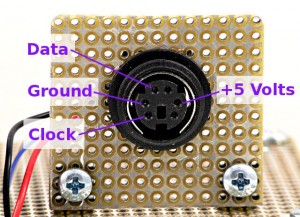 Step 3: (Hot) Glue keyboard under the shelf
Just hot glue the keyboard under the shelf, make sure the cable is correct aligned. Now you can kick your Arduino Project…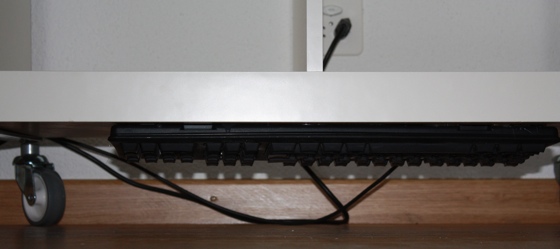 Step 4: Upload Firmware to Arduino
Get the ExpeditInvaders Firmware on my GitHub repo and upload it to your Arduino board.
Step 5: Connect 12V to the Arduino and LED Modules
Connect 12V to the Arduino and LED Modules. You can use an old ATX power supply or a new 12V/24Watt Power supply.
That's it! Feel free to post some images of your installation on the PixelInvaders Facebook site!
Links
More Images