This Guide shows you, how to assemble/connect the StripInvaders System. You need:
An Arduino Ethernet Board and a USB/Serial Light Adapter to upload the firmware
5 Volt power supply – I use an old ATX Power supply
Optional: Grove – Base Shield and Cables
Also make sure that the StripInvaders Sketch is already on your Arduino!
This is my WS2801 LED Strip: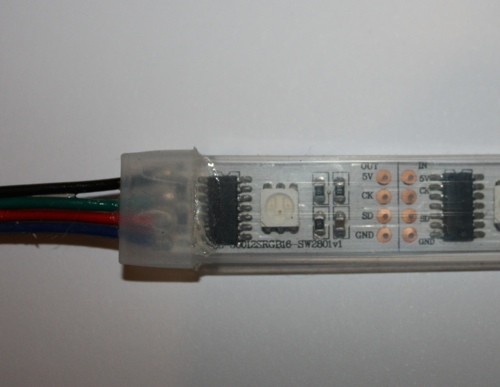 You see that the connections described on the Strip itself (
Black
: 5V,
Green
: Clock,
Red
: Data,
Blue
: GND).
Now it's time to connect the Grove Base Shield to the Arduino Ethernet:

The Grove Cable is connected at Port nr. 4, this means
Yellow
: D4,
White
: D5,
Red
: V+,
Black
: GND. Hint: D4 means Arduino Digital Pin 4, D5 means Arduino Digital Pin 5.
Almost done, now connect the cable from the Arduino Grove Shield with the LED Strip and the 5V power supply. This should look like this: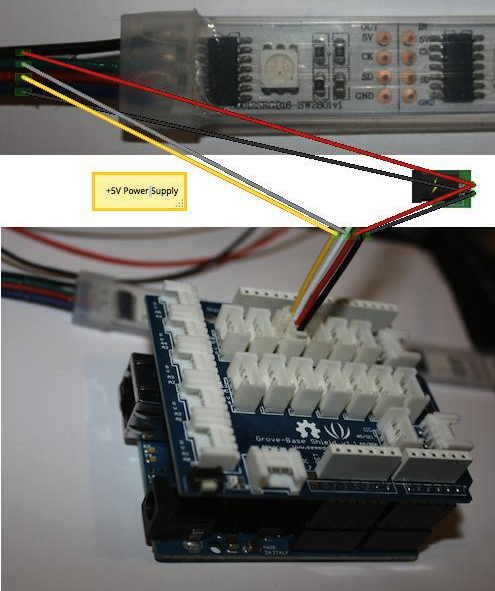 Now connect the StripInvader to your LAN and power up StripInvaders. Try to ping the host "invader.local", this is the mDNS name of the StripInvaders Arduino device.
The StripInvaders can be configured without re-uploading the Arduino sketch, by sending a special OSC messages (/cfg). Take a look at this PureData example: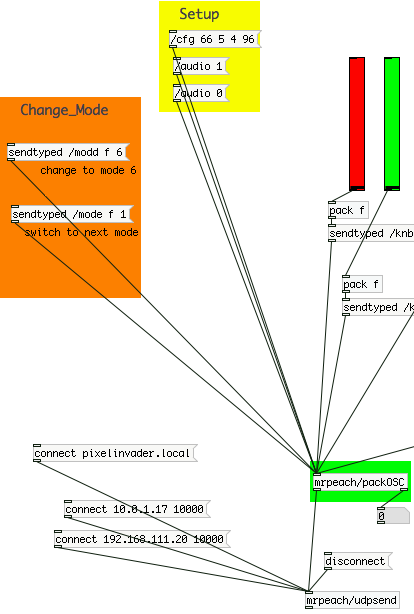 In our example we send "/cfg 66 5 4 96″. The first parameter 66 is just a magic byte, it must be 66, period. The second parameter defines the data pin, the third parameter defines the clock pin and the last parameter define how many led pixels are installed.
Links: StripInvaders System
Look, it's really easy ma:

Edit 4.2.2012:
I just released the StripInvaders config Tool (for OSX and Windows), this should simplify the setup process. Here is a screenshot: