… has just begun. Check out Java4k.com. I just submitted my 4k game jm00 – a boomshine clone.
I'll release the source as soon as the competition has finished.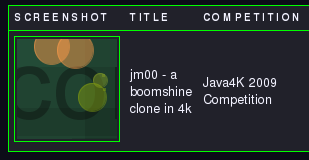 Hint: If you uploaded your .jnlp and .jar file to your website, but the .jnlp does not start, add a .htaccess file with this content:
| | |
| --- | --- |
| 1 | AddType application/x-java-jnlp-file .jnlp |
Thanks to Árni Arent for this hint.