If you want to create SSH tunnels its a bit annoying when your SSH session disconnects. There are some tools available which prevents that:
-Calling Home
-MyEntunnel
Calling Home didn't work for me; I assume this is because of a newer MS .NET framework. What you need for both tools is an automatic SSH logon. I created a SSH DSA Key pair for my client.
You need putty and pgen. SSHServer is the machine you want to connect to, WORK is the machine you are connecting from.
-WORK: start puttygen, generate a ssh-2 DSA key (1024bits)
-WORK: copy the "Public key for pasting…"
-SSHServer: paste it to the file ~/.ssh/authorized_keys. (bad example: if you want to connect as root, copy the pub key file to /root/.ssh/authorized_keys)-WORK: save the private key on your windows machine (in this example c:priv.ppk)
-WORK: when you connect to the Linux server with putty, use c:priv.ppk as "private key file for authentication" (Connection/SSH/Auth)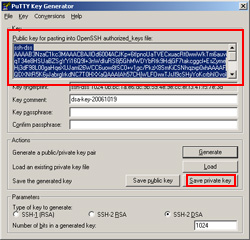 If you remark some issues when you are connecting with the DSA key, try to delete the file ~/.ssh/known_hosts on your SSHServer.
Now start putty and load your saved session. Edit the host name, add a USERNAME@ in front of your host. For example if your
host name is 192.168.10.10 edit it to root@192.168.10.10. Save the session and try if it works.
As i cant use Calling Home is use MyEntunnel as an example. MyEntunnel use plink as SSH backend. Plink provides those options:
1
2
3
4


PuTTY Link: command-line connection utility
Release 0.58
Usage: plink [options] [user@]host [command]
("host" can also be a PuTTY saved session name)
The important part is "host" can also be a PuTTY saved session name. Because you can't enter proxy settings (and the other putty options)
we need to enter the putty session name, username and the SSH port: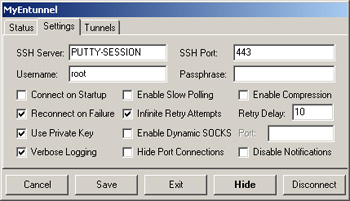 Now MyEntunnel (plink) will use our saved putty session PUTTY-TEST (and thus can use a proxy server), connect to port 443 as root.