Well after reading some post's on the CD911 Forum, I realized that I don't need to copy the whole TSM Client to the RAM Disk, so this would speed up the start of TSM. I also created a small and (hopefully) idiot-proof start GUI for TSM. Its customizable with a file called tsmgui.cfg.
So you can define node's, TSM Server's and its ports. You can also define additional options. The most important setting is the ERRORLOGName option, which tell's TSM where to store the log and dump Files.
The GUI looks like this: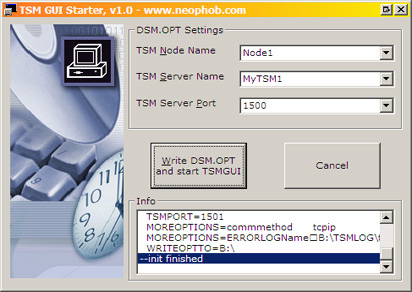 Here is the sample tsmgui.cfg:
; tsm gui config file
; (c) by www.neophob.com – michael vogt – tsmgui@neophob.com
;
;NODENAME=<enter here the tsm node name>
NODENAME=Node1
NODENAME=Node2
nODENAME=Node3
NODENAME=Node4
;TSMSERVER=<enter here the TSM dns name or ip address>
TSMSeRVER=MyTSM1
TSMSeRVER=MyTSM2
;TSMPORT=<enter here the port on which TSM is listening>
TSMPORT=1500
TSMPORT=1501
;MOREOPTIONS=<enter here additional settings for dsm.opt>
;for example:
;MOREOPTIONS=commmethod      tcpip
;MOREOPTIONS=COMPression ON
;MOREOPTIONS=DOMain ALL-LOCAL SYSTEMOBJECT
MOREOPTIONS=commmethod      tcpip
;WARNING, do not remove this option, or tsm client cannot be started
MOREOPTIONS=ERRORLOGName    B:TSMLOGtsmerr.log
;WRITEOPTTO=<enter here the location, where the new opt file will be written. if you dont provide this path, the  temp directory will be used>
WRITEOPTTO=B:
; END
Some info's about tsmgui:
-It needs to be in the same dir as dsm.exe.
-It creates a file called mydsm.opt, depending of your selection and start dsm.exe with the "optfile=XXX" Parameter.
To include TSM Gui in your BartPE CD, download the Plugin here or just the tsmgui here. Then edit tsmgui.cfg (\filesTSMbaclienttsmgui.cfg) and enter your TSM server, nodes and options. That's it! Please comment bugs or improvements here, thanks!
BTW: I tested it with Windows XP SP2, I don't know if it works with Windows 2003 (the BartCD)!