Be sure to check out the first article!
Ok the first question is, what is SOCKS?
SOCKS is a networking proxy protocol that enables hosts on one side of a SOCKS server to gain full access to hosts on the other side of the SOCKS server without requiring direct IP-reach ability. SOCKS is often used as a network firewall, redirecting connection requests from hosts on opposite sides of a SOCKS server. The SOCKS server authenticates and authorizes requests, establishes a proxy connection, and relays data between hosts.
There are two major versions of SOCKS: SOCKSv4 and SOCKSv5
The SOCKSv4 protocol performs three functions:
1.) makes connection requests
2.) Sets up proxy circuits
3.) Relays application data
The SOCKSv5 protocol adds authentication to the above functions.
Ok this means, if your Application supports SOCKS Server (which does the most, FireFox, IE, Gaim, ICQ…) you are free ;)
So fire up Putty and go to the "Tunnels" section enter "1100″ as source port (as an example) and click on "Dynamic". Now add it:


Another good idea is, to send dummy data to our SSH Server, to keep the tunnel session active:



For example enter 30.
So if you connect to your SSH server (of course enter a SSH server in the Session category!), your local port 1100 is you gateway to a free world…
Here is a example, how to configure IE with your socks proxy server: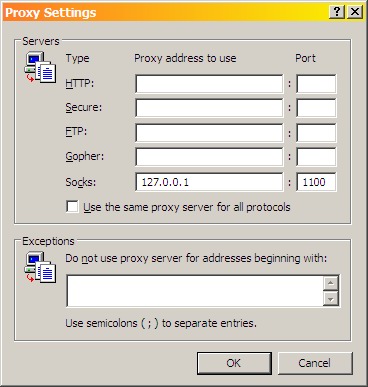 This means, the traffic you generate will be encrypted transferred to your SSH server and then the connection will be made via the SSH server…
Hope this helps!